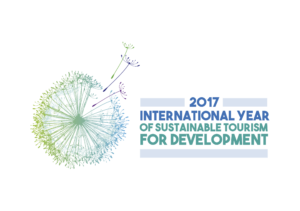 Il 2017 è l'anno del turismo sostenibile per lo sviluppo, lo ha stabilito l' UNTWO (Agenzia dell'Unione Europera specializzata nel turismo ) e Montevecchio, come destinazione vincitrice del premio EDEN (2011) è tra le destinazioni che potranno fregiarsi del logo come "friends" dell'evento.
Di seguito le informazioni presenti sulla pagina dell UNTWO:
"With more than one billion international tourists now traveling the world each year, tourism has become a powerful and transformative force that is making a genuine difference in the lives of millions of people. The potential of tourism for sustainable development is considerable.  As one of the world's leading employment sectors, tourism provides important livelihood opportunities, helping to alleviate poverty and drive inclusive development."
– United Nations Secretary-General, Banki-moon
World Tourism Day Message, 2015
2017 International Year of Sustainable Tourism for Development
The United Nations 70th General Assembly has designated 2017 as the International Year of Sustainable Tourism for Development (A/RES/70/193).
This is a unique opportunity to raise awareness on the contribution of sustainable tourism to development among public and private sector decision-makers and the public, while mobilizing all stakeholders to work together in making tourism a catalyst for positive change.
In the context of the universal 2030 Agenda for Sustainable Development and the Sustainable Development Goals (SDGs), the International Year aims to support a change in policies, business practices and consumer behavior towards a more sustainable tourism sector than can contribute to the SDGs.
The #IY2017 will promote tourism's role in the following five key areas:
(1)        Inclusive and sustainable economic growth
(2)        Social inclusiveness, employment and poverty reduction
(3)        Resource efficiency, environmental protection and climate change
(4)        Cultural values, diversity and heritage
(5)        Mutual understanding, peace and security.
The World Tourism Organization (UNWTO), the United Nations Specialized Agency for Tourism, has been mandated to facilitate the organization and implementation of the International Year, in collaboration with Governments, relevant organizations of the United Nations system, international and regional organizations and other relevant stakeholders.
Join us in celebrating 2017 as the International Year of Sustainable Tourism for Development!