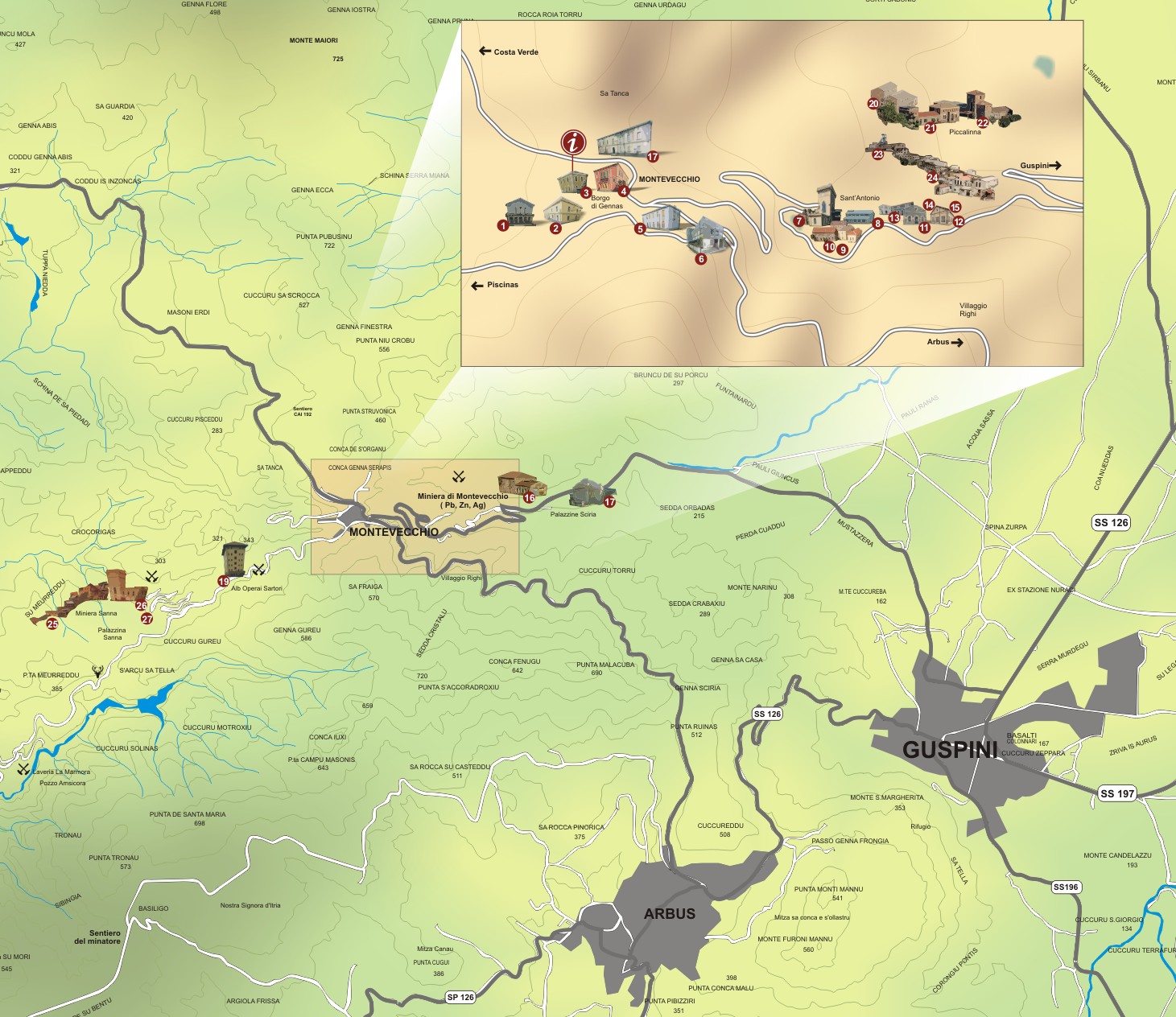 A circa 10 Km dal centro urbano di Guspini, si estende l'area mineraria di Montevecchio che segue il filone minerario Piombo-Zincifero a cavallo tra i territori di Guspini e Arbus. Inserito tra le otto aree che fanno parte del Parco Geominerario Storico e Ambientale della Sardegna, Montevecchio, costituisce la testimonianza dell'importante attività estrattiva svolta dal 1848 fino al 1991.
Lungo la strada che da Guspini conduce al borgo di Gennas (meglio noto come Montevecchio) e che digrada poi fino al mare attraversando il territorio di Arbus, è infatti possibile incontrare le strutture che hanno profondamente segnato la storia dei comuni limitrofi.
Procedendo da Guspini verso il borgo minerario ci si imbatte ben presto nei cantieri di Levante di cui si incontrano per primi, la Diga Fanghi e gli edifici di Sciria, dalla cui stazione partiva il trenino carico di minerale per San Gavino. Continuando a salire si intravedono le vasche rettangolari ancora piene d'acqua su cui si specchia la Laveria Principe Tommaso. Poco più in alto, l'evidente struttura in cemento armato del Pozzo Sartori e, poco oltre la laveria, il Pozzo San Giovanni, nella cui sala argano e compressori sono conservati interessanti macchinari perfettamente integri. Il pozzo, recentemente restaurato, è profondo ben 290 metri ed è interamente costruito con pietre e mattoni faccia a vista, metteva in comunicazione sei gallerie e serviva il cantiere di Piccalinna. Percorrendo i tornanti che portano in cima è visibile il Pozzo Sant'Antonio e la sua caratteristica torre merlata, che, come nella migliore tradizione architettonica degli anni a cavallo tra 800 e 900, rispolvera un evidente stile neogotico.
Arrivati al borgo di Gennas ci si trova davanti ai numerosi edifici di servizio (dalle scuole all'ospedale) tra cui spicca la palazzina della Direzione, attualmente aperta al pubblico, e la Mensa Impiegati attualmente adibita a info-point e sala congressi.
Passato il borgo, ormai sul versante di Ponente, si incontrano gli ultimi siti del territorio di Guspini: l'Albergo Operai «Sartori» e l'imponente cantiere Sanna.
A questi impianti ne vanno aggiunti due che ricadono in territorio di Arbus: miniera di Telle e miniera di Casargiu, le ultime della concessione Montevecchio prima di incontrare quelle della concessione Ingurtosu.
Montevecchio Mine
The mining area of Montevecchio (Old Mountain) is located at about 10 Km from the city centre of Guspini and follows the lead and zinc mining lode between Arbus and Guspini. Montevecchio recalls the important mining activity which took place in the area from 1848 to 1991 and is part of the Historical and Environmental Geo-mining Park of Sardinia (which in turn is part of the UNESCO Global Geoparks Network). The mining structures that have profoundly marked the history of the neighboring municipalities can be found along the road that from Guspini leads to Gennas (better known as Montevecchio) and that then slopes down to the sea through the territory of Arbus. Going forward from Guspini to the mining village you will get soon to Levante yard, where you will first reach the Diga dei fanghi (Dam of Mud) and Sciria's buildings, from whose station the trains used to transport ore to San Gavino. Continuing up you will see the rectangular tanks still full of water by the Laveria Principe Tommaso (Principe Tommaso Washery). A little higher up, you will find the Pozzo Sartori (Sartori Shaft), with its well recognisable structure made of reinforced concrete, and the Pozzo San Giovanni (San Giovanni Shaft), in whose winch and compressor rooms are stored valuable and undamaged historical machinery. The latter shaft, which has recently been restored, is as much as 290 meters deep and is entirely built with stones and red bricks. It was used to link 6 different mining tunnels. Next, along the hairpin bends leading to the top of the hill, you will see the Pozzo Sant'Antonio (Sant'Antonio Shaft) and its characteristic crenelated tower. This is characterized by a neo-Gothic style which was very popular in between the nineteenth and the twentieth century.
Once you get to Gennas village you will find numerous facility buildings (schools, hospital and so on) among which the Palazzina della Direzione (the Directorate of the Mines), which stands out and can be visited by tourists, and the Mensa Impiegati (the Canteen of the Employees), currently used as an info-point. Beyond the village, on the west side of the hill, the last mining sites in the territory of Guspini are: the Albergo Operai (Workers' Inn) <<Sartori>> and the massive Sanna mining yard.