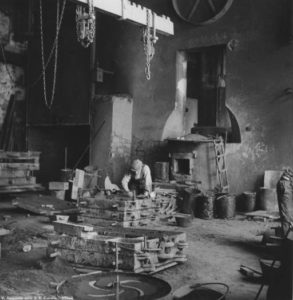 La prima fonderia fu costruita nel 1886 nei locali della laveria principe Tomaso, già l'anno successivo produsse 63 tonnellate di getti di ghisa e 188 di ottone. Nel 1912 fu trasferita nella nuova officina di manutenzione dove entrò in funzione nel 1914 producendo ogni anno tonnellate di getti di ghisa e bronzo per costruire i pezzi di ricambio dei macchinari soggetti a usura.
Ristrutturata più volte, assunse la fisionomia attuale nel 1937.
Sono visibili i forni, le sagome, gli stampi e altri strumenti per la fusione.
Nello spazio libero tra la Fonderia e il Garage fu ricavato il reparto "Calderai" per effettuare tutte le costruzioni in ferro: serbatoi, scafali, tralicci, castelli in ferro per pozzi di miniera, vagoni e tutte le costruzioni in ferro che potessero servire alla miniera.
Sul lato ovest, di fronte al reparto forgiatrici, fu ricavato il reparto locomotori per la manutenzione dei locomotori.
Foundry
The first foundry was set up in 1886, in the premises of the Prince Tomaso washery.
The year after its establishment, the Foundary produced 63 tons of cast iron and 188 of brass. In 1912 it was moved to the new maintenance workshop which went into operation in 1914 and, every year, produced tons of cast iron and bronze to build spare parts for machinery.
The foundry was renovated several times and, in 1937, it assumed the present appearance.
Today, inside the foundry old ovens, shapes, molds and other tools for the fusion of metal are exhibited.Between the Foundry and the Garage the "Tinkers" department was set up for the production of iron objects: tanks, shelves, pylons, iron castles for mine shafts, wagons and so on.
On the west side, in front of the forging department, the locomotives department was created for the maintenance of locomotives.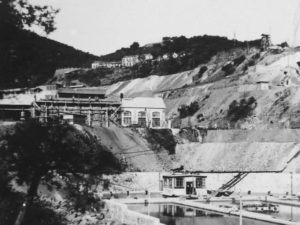 La-Fonderia cantiere di ampliamento