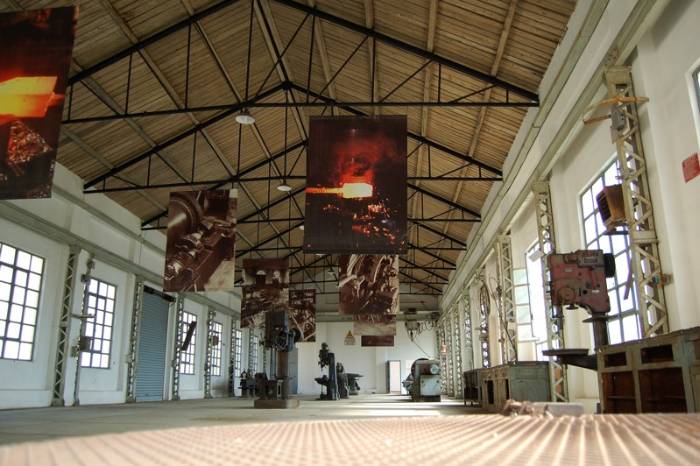 Sorse inizialmente come fabbricato per la manutenzione degli automezzi. L'edificio, successivamente ampliato, divenne il reparto di "Torneria e Aggiustaggio". Era dotato di macchine utensili, 8 Torni paralleli, Piallatrice, Limatrice, Fresatrice universale, Filettatrici, Mole smeriglio, 2 Trapani a colonna e 1 a bandiera allora all'avanguardia e successivamente aggiornate. Nel periodo bellico vi si costruirono, insieme agli altri reparti, oggetti per uso domestico, aratri, vomeri, erpici, griglie, accendini a benzina, scatole per il lucido per le scarpe e molto altro.
Sul lato Nord dell'edificio, fu ricavato il reparto Martelli e Autopale per la manutenzione di tutti i tipi di perforatrici, Martelli pneumatici, Pale meccaniche e Autopale.
Attualmente è visitabile e al suo interno conserva ancora molti dei macchinari originali.
Turning and Realignment
Initially this building was used for the maintenance of vehicles. later it was enlarged and became the "Turning and Realignment department". It was equipped with machine tools, 8 lathes, planer, shaper, universal milling, threading, emery wheels and 3 drills.During the war household articles, plows, harrows, grills, gas lighters, boxes for shoe polish and more were produced here.
The AUTOPALE and Hammers department was located in the north side of the building.
It was used for the maintenance of all types of drills, pneumatic hammers, mechanical shovels and AUTOPALE.
A significant collection of the original equipment is still kept here and can be visited by tourists.