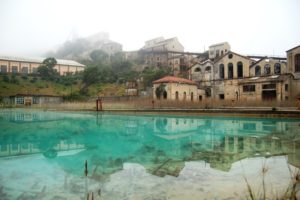 Nel 1877 venne costruita una nuova laveria che venne chiamata principe Tomaso in onore del principe Tomaso di Savoia che in quell'anno venne a Montevecchio.
A lui e a tutto il suo seguito venne offerto un lauto pranzo in un gradino di coltivazione della galleria Anglosarda aperto in sfavillante galena.
Potenziata e rimodernata a più riprese divenne infine un impianto di trattamento differenziato, capace cioè di separare, attraverso le celle di flottazione, più minerali.
La sua potenzialità di trattamento era di 1200 t/giorno su tre turni per 5 giorni alla settimana.
E' rimasta in funzione sino al 1981,
Prince Tommaso Washery
In 1877 a new washery was built, called Prince Tommaso in honor of Prince Thomas of Savoy who, in that year, visited Montevecchio.
A lavish lunch in a tunnel of the Anglosarda mine fully covered with sparkling galena was offered to him and to his plus ones.
The Washery, which was strengthened and modernised several times, finally became able to process different minerals at once through the flotation cells. Its processing capacity was 1,200 t per day, with three work shifts over 5 days per week. It remained in operation until 1981.